Model Details
Lightwave VDE/200 Fiber KVM Extender
Hi-Resolution Fiber KVM Extension up to 10,000 feet,
2048 x 2048 pixels @ 10-350 Hz without loss of resolution
Lightwave Communications VDE/200 Fiber Optic KVM Extender Solutions
Lightwave VDE/200 Video Display and Audio Extension Kit for Graphic Workstations
The VDE/200 Video Display Extension Kit allows you to remote a keyboard, monitor, mouse, and peripherals from a workstation long distances (up to 10,000 feet), without loss of resolution. Using multi-mode fiber optic technology, the VDE is commonly used in areas where space is at a premium or where data security or environmental issues dictate that a CPU be located remotely from the graphics console or projector. The VDE is the only Gold Seal Approved solution for Silicon Graphics. The VDE is also SPARC Verified.
VDE/200 - rear view


Features:

Lightwave VDE/200 Convenience - Access your SGI or other graphics workstation from a remote location (creative or production department, etc.) with just as crisp and clear graphics as if you where still sitting next to it.
Lightwave VDE/200 Improve your workstation environment - Keep fan noise and CPU maintenance interruptions restricted to the cold computer room.
Lightwave VDE/200 Flexible solution - Use the VDE for any desired distance, from 75 to 10,000 feet. VDE systems are available to transport RGB, HDTV formats, NTSC, PAL, Audio, and most serial formats.
Lightwave VDE/200 High resolution graphics - Patented automatic gain control ensures consistent, transparent operation with resolution to 2000 x 2000 pixels.
Lightwave VDE/200 Easy to use - Plug-and-play design with no adjustments needed. Common copper cabling connections and simple ST fiber hook-up.
Lightwave VDE/200 Complete system/software transparency - The VDE/200 connects directly to the video signal outputs from your processor - no digitizing, packetizing, routing, or signal reformatting is performed.
Lightwave VDE/200 Platform Flexible - Supports video formats for Silicon Graphics, Sun, HP, IBM, DEC, Apple, and other compatible processors.

The Audio Extension Kit allows users to send and receive analog stereo audio, MIDI, and serial lines without increasing the fiber count. The AES delivers CD quality sound, fiber-optically, at 42,000 samples per second and 18 bit digital conversion

Audio - Stereo connections to microphone or line level sound is digitized and reproduced with CD precision to headphones or speakers.
Additional Ports - Remote even more peripherals (tablets, stereo view goggles, gloves, etc.) with AES's additional serial ports.
MIDI - Additional capabilities include a Musical Instrument Digital Interface.
Specifications:
VDE/200 Video Display Extension Kit
Lightwave VDE/200 Model 160 High Performance System:
A full RGB (and sync) system, designed to handle workstation-level video signals up to 160 MHz, as found on displays with up to 1600 x 1200 pixel resolution.
Lightwave VDE/200 Model 350 Ultra-High Resolution System:
The Model 350 utilizes a patented AGC scheme and proprietary video processor ASICs and pre-amps to achieve analog bandwidth sufficient to support 2048 x 2048 pixel displays. When packaged with high performance LEDs and detectors, the Model 350 has no peer for entertainment post-production, air traffic control, medical and visual simulation applications. The system has all the functional features and benefits of the Model 160.


Video Performance
Model 160
Model 350
Bandwidth per channel
10 Hz to 160 MHz
10 Hz to 350 MHz
Rise Time
2.8 nsec
1.2 nsec
Fall Time
3.0 nsec
1.2 nsec
Maximum Display Resolution
1600 x 1200 pixels
2048 x 2048 pixels
Optical Loss Budget
50/125 Micron
4.0 dB
4.0 dB
62.5/125 Micron
7.0 dB
7.0 dB
Horizontal Frequency
10-105 KHz
Sync Configuration
Sync on green, composite sync, separate H & V sync
Linearity
3% or better, 10-90% APL
DC Restoration (Video Back Porch)
0 + 50mV
Signal-to-Noise Ratio
>40 dB
Output Gain Stability (Per Channel)
+ 2% of full scale pulse after ALC lock (per channel)
Differential Output Gain Stability
+ 1% (channel to channel)
ALC Dynamic Range
8 dB
Overshoot
< 15%
Setting Time
< 20 nsec to less than 2%
I/O Impedance
75 Ohms
I/O Return Loss
30 dB
Indicators
Power (green) on front panel
Operating Temperature
25o C (77 o F)
Power
Transmitter
15W, 110-240 VAC, 50/60 Hz
Receiver
20 W, 110-240 VAC, 50/60 Hz
Power Connectors
IEC320/CEE22 (Inlet), IEC320/CEE22 (Outlet)
Dimensions
Transmitter
1.72" H x 15.82"W x 14.0"D (44 x 402 x 356 mm)
Receiver
19" Rack Mount Kit Available (occupies one rack unit)
Weight
Transmitter
10 lbs (4.5 Kg)
Receiver
11 lbs (5 Kg)
Shipping
22 lbs (10 Kg) per system
Additional Detailed Information:
Geophysical & Scientific
The geophysical and scientific industry is driven by high technology applications. These sophisticated technologies bring immersive or semi-immersive environments to the forefront, allowing the worlds of physics, geography, chemistry, and biosciences to learn and explore in a new way. Lightwave Communications is dedicated to providing state-of-the-art switching and fiber optic solutions for these applications. As this industry pushes the boundaries ­ Lightwave is there to meet and exceed them.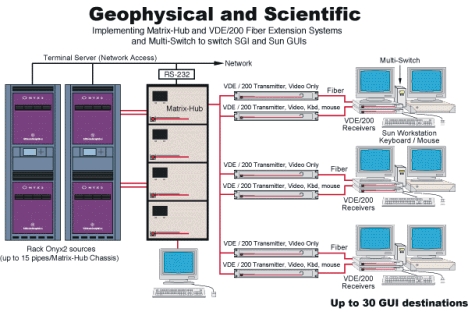 Lightwave's Matrix-Hub, VDE/200, and Multi-Switch in a geophysical/scientific environment that has implemented the Onyx2 Groupstation concept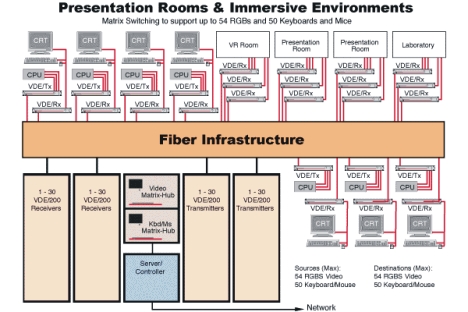 Lightwave's Matrix-Hub and VDE/200 in an immersive environment

Command and Control
Real-time display of high resolution graphics and text is a key aspect of many different types of control centers, ranging from network control systems and automated factories, to power generating stations and air traffic control systems. Frequently, it is desirable to have the processor and the user consoles in separate locations. Lightwave's switches and VDE/200 can be installed between controlled-environment equipment rooms and on-line user stations, eliminating the need for elaborate packaging and cooling systems in the console. Plus, standby and remote control rooms can be easily added without duplication of processor hardware. Control rooms are now optimized for users, and processing equipment can be kept in a separate controlled environment.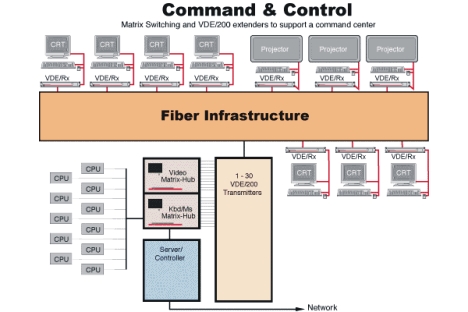 Lighwave's Matrix-Hub and VDE/200 supporting a command center

Conference & Presentation
As conference and presentation requirements expand system and network administrators are continually faced with performance and technical issues. Questions arise such as how can I access graphics on a server in a different location? Video degradation is plaguing me, how can I get high resolution? Lightwave's customers require switching and extension solutions that can answer these questions. With the introduction of products like the Matrix-Hub and VDE/200 resources can be tapped from various locations and sacrificing video quality becomes a thing of the past.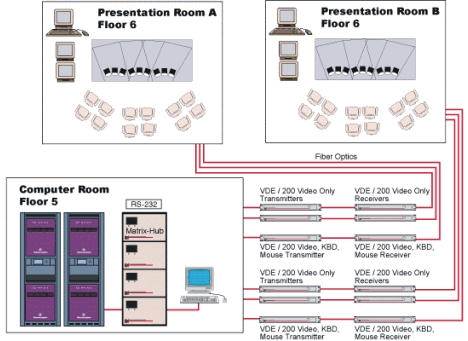 Lightwave's Matrix-Hub and VDE/200 solutions for multiple conference/presentation room environments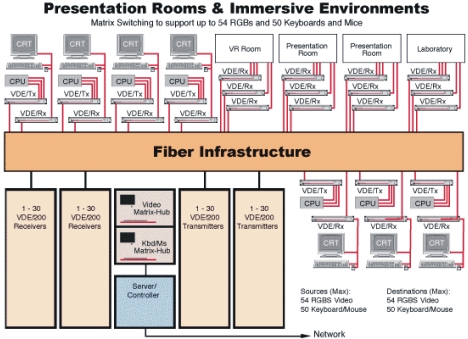 Lightwave's Matrix-Hub and VDE/200 solutions for multiple presentation rooms and immersive environments, supporting 54 RGBS and 50 Keyboards and Mice

Financial and Trading Floor
It's no surprise that many financial organizations rely on Lightwave solutions for control, consolidation and contingency. Accurate market data is essential to the operation of modern brokerage trading floors. To achieve this, a complex web of hardware and software is required to analyze and filter information from a variety of real-time news and information sources. To provide maximum performance, a network of high performance servers and processors is required. In many cases, users decide to locate all of the processors in a single room, to allow close coupling of related systems and to simplify maintenance and software updates. The space these systems occupy becomes valuable real estate in a highly cluttered environment.
Lightwave solutions provides a simple, real-time connection, eliminating the need for processing and networking equipment at each user's desk. This allows for a seamless integrated user interface with outstanding ergonomics. In addition, Lightwave's ServerSwitch and VDE/200 eliminate unneeded peripherals in the server room, freeing up that valuable real estate for future use.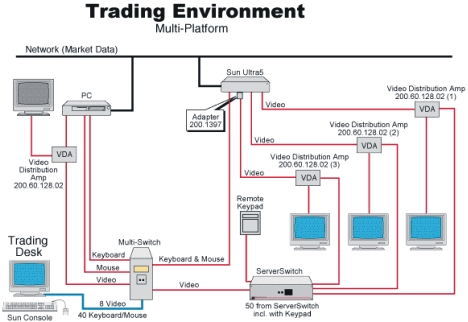 Lightwave's ServerSwitch and Multi-Switch in a multi-platform trading environment

Entertainment, Animation, and Post Production
The entertainment industry is growing exponentially with the introduction of cutting edge technology that suspends audience belief and far exceeds their expectations. The wide variety and staggering quantity of equipment needed to produce modern computer-assisted animation requires a networking scheme with great flexibility and excellent system maintainability. By centralizing all of the processing resources, system management is simplified, and processors can be allocated to projects on an as-needed basis. Lightwave's products provide a very flexible solution; efficient system management, optimal processor utilization, and users who are happy not to share offices with hot, noisy graphic supercomputers. Lightwave is also able to provide its customers with remarkable cost reductions in light of current market trends.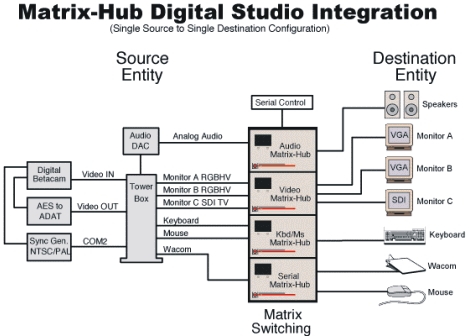 Lightwave's Matrix-Hub configuration in a digital studio environment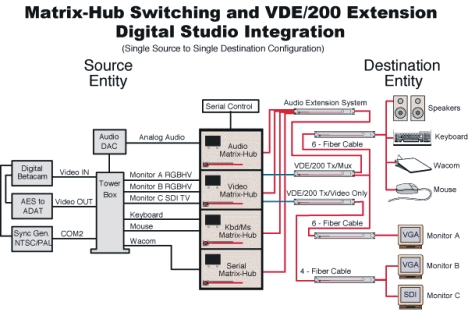 Lightwave's Matrix-Hub and VDE/200 configuration a digital studio environment

Government and Secure Computing
Government technology is a fast-paced, ever-changing environment, driven by new products and growing server rooms. The foundation of many worldwide government agencies (federal, military) is electronic technology. Besides keeping abreast of new technologies, system and network administrators are continually faced with maintaining the highest level of information integrity and security.
One of the central thrusts of Lightwave Communications over the past years has been on the viability of fiber optic transmission systems. Fiber optics is a highly secure medium. Being that is does not radiate energy it cannot be received by a nearby antenna, which makes it extremely difficult to tap. Today thousands of government control rooms are using Lightwaves VDE/200 fiber optic extension kits for their mission critical computer/server requirements.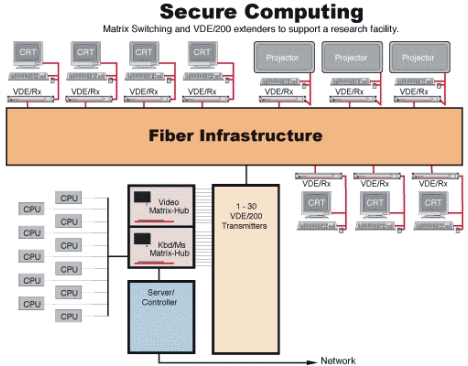 Lightwave's VDE/200 and Matrix-Hub in a secure computing environment.

Server Administration
The role of the server/system administrator is growing increasingly complex. Computer configurations now require the need to mix different hardware and software platforms transparently. This leads to the exponential growth of server rooms and the need to work on multiple systems. In addition, the requirement for centralized control and consolidation is ever present in this environment. It is evident that the only salvation for server administration is the console switch.
Lightwave understands that system administration has become an integral part of today's technology and now more than ever, the protection and continued precise operation of servers is essential to the functioning of even basic everyday services. Lightwave's console switches are commonly used in environments where this is mission critical, such as testing labs, departmental LANs, multiple-system desktops, server farms, and ISP and web hosting facilities to name a few. The ServerSwitch, PC ServerSwitch Plus, and SystemConsoleSwitch give system administrators the control, consolidation and contingency they require.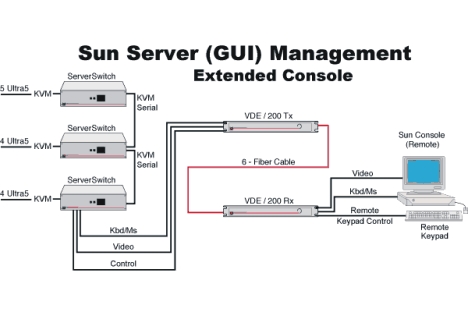 Lightwave's ServerSwitch and VDE/200 in a server administration environment.

Kiosks and Museums
Kiosks and touchscreen kiosks are becoming more and more popular. In today's technologically advanced market place many companies are using kiosks to outshine their competition and increase sales. Harnessing multimedia using audio, video, animation and graphics, kiosks are beneficial, especially in point of sale/information applications.
Lightwave solutions are currently implemented in various kiosk applications, specifically museums. Lightwave has successfully designed topologies for various museums that use numerous kiosks for educational purposes. Many of the museum kiosk applications were challenging due to space and distance requirements, and Lightwave responded with the only industry solution.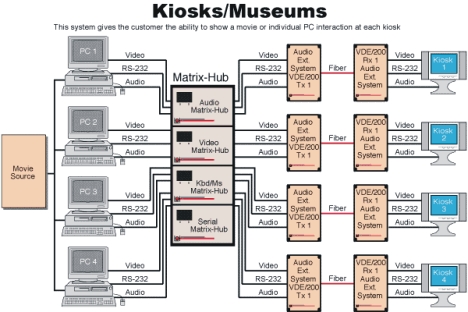 Lightwave's Matrix-Hub and VDE/200 used in a kiosk application
Website powered by JP Claude, INC.Copyright © 2018 BroadcastStore.com. All Rights Reserved.